Quooker Free Installation Promotion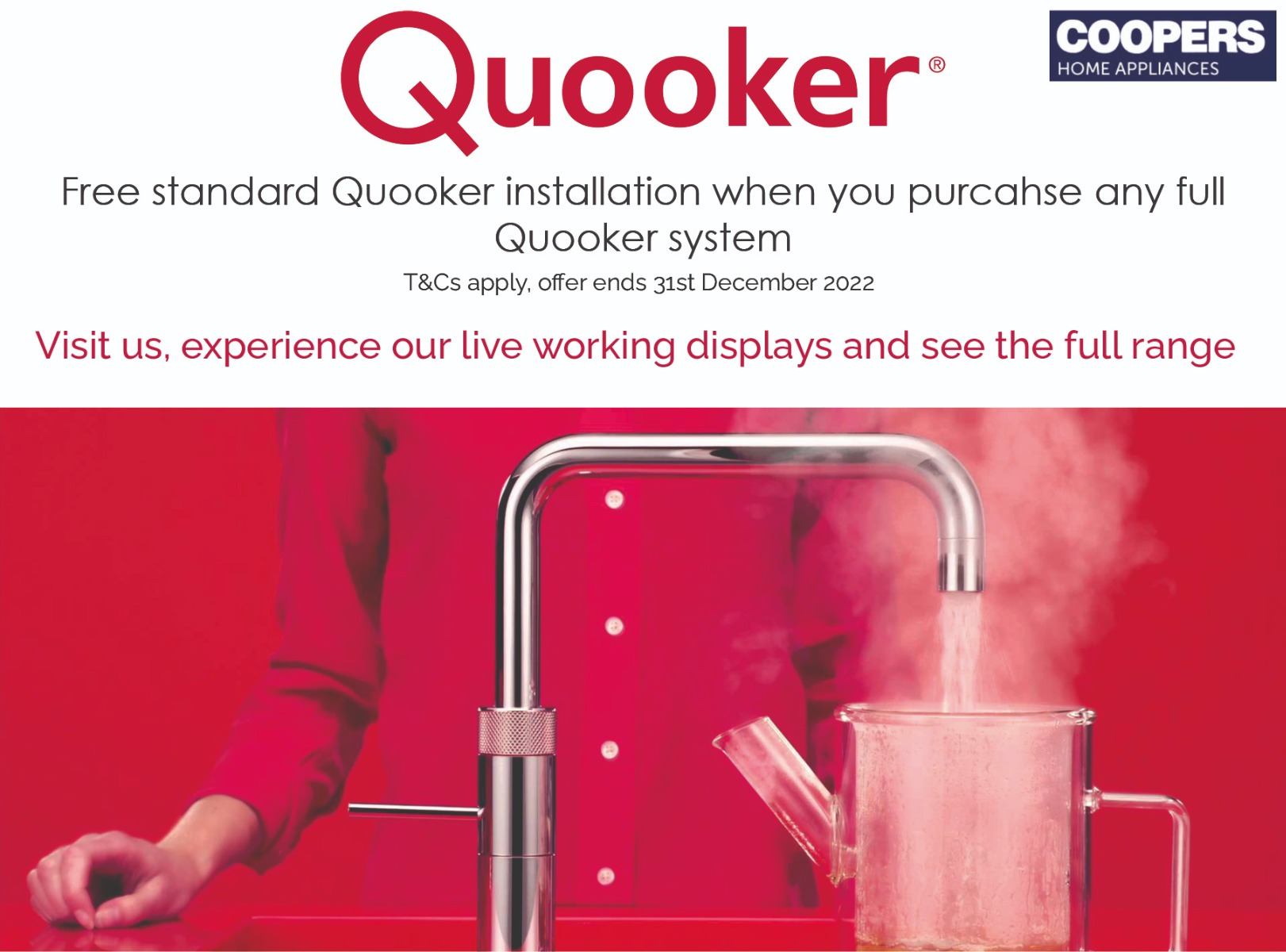 Exclusive Seasonal offer – Free Quooker standard installation!
We are very excited to be able to offer our customers free standard installation of any new Quooker instant boiling water tap and accessories when purchasing any full Quooker system (tap and tank) at the full RRP. (Ts&Cs apply)
This exclusive installation offer includes the removal of your current kitchen tap, setting you up with boiling water as well as your regular hot and cold water. With a Quooker CUBE accessory, you could also have sparkling and chilled water, all from one tap! 
Quooker taps are easy to maintain, efficient and reliable, it also fits into your existing standard tap hole and can last up to twenty years! Sustainability is a key attribute for Quooker taps, helping you to reduce energy and save water. Quooker taps use no more energy than a kettle and there are minimal running costs. We especially love the Quooker COMBI tank which is extremely energy-efficient, using 50% less energy than a household boiler and with an energy rating of A. 
Think about how many times you boil a kettle but only use a cup of water? Quooker taps are water efficient, as you only use the exact amount of water that you need. No need to wait around for water to boil either, instant boiling water at your fingertips! Make a cup of tea, steam vegetables, thaw frozen food, cook pasta, wash up, sterilise equipment, you name it! 
Other benefits include a supreme fresh taste due to a filter that purifies and removes any bacteria and impurities from the water. This also removes the need to purchase bottled water – decreasing plastic waste. The Quooker taps are safer to use compared to a conventional kettle and have built-in safety measures, which reduce the likelihood of accidents.
To find out more and have a live demonstration, pop into Coopers Home Appliances where our expert staff are on hand and ready to help! 
Terms and conditions apply. This is a Quooker only free standard installation promotion, which ends on the 31st of December 2022.
Installation Criteria Terms & Conditions
Connection is to existing services that must be live and working and we must be provided with clear details of where we can isolate either the water and or the power if required when we attend.
Services required - 13 amp power socket (2 x 13 amp if a CUBE is specified) waste, hot and cold water supply. These services must be within 500mm of the intended install location below worktop height and fully accessible.
The minimum hot and cold water pressure required is 2 bar. COMBI tanks only require a cold water supply.
If the criteria above have not been met on the arrival of the engineer we will not be able to complete the installation. 
Please note the following:
The Quooker PRO3 tank requires 547 mm of height space and is 153 mm in diameter.
The Quooker PRO7 tank requires 550 mm of height space and is 200 mm in diameter.
The Quooker COMBI tank requires 570 mm of height space and is 200 mm in diameter.
The CUBE system requires a 500 mm in height, 223 mm in width, 340 mm in depth. 70 mm extra space either on front or side is needed for the CO2
If you have specified a Flex tap please note we require at least 500 mm deep x 200 mm wide space below the tap position under the worktop in the cupboard. This is required to allow the weight that operates the Flex hose to move freely up and down. If it becomes restricted it will not operate as intended.
---
October 13, 2022
|
| View: 133
Tags: General
---